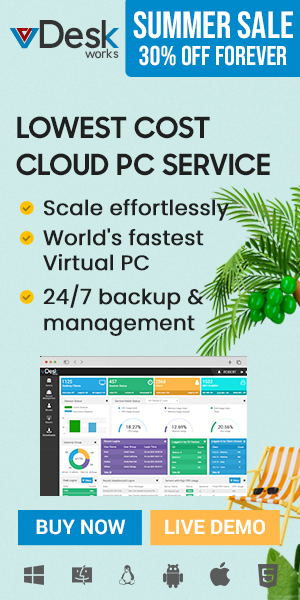 vDesk.works
is a popular remote desktop solution, perfect for helping you manage remote teams and sessions from a centralized server with an easy to use interface. With a boom in remote work force, tools like
vDesk.works
are not only used for delivering published apps, data, and desktops but also empowers managers to collaborate and organize their remote workforce easily.
vDesk.works
HTML5 web-access provides rich workspace experience on any HTML 5 device, including support for local peripherals, file drag & drop capabilities, and shared clipboard.
vDesk.works
eliminates the risk of losing data in case of any accident or calamity by enabling backup and restore from its inbuilt cloud storage. You can also monitor your applications for warning signs that may require proactive intervention.
vDesk.works
also has a stylish and interactive dashboard which shows interactive information about your DaaS environment, including server health, logs, reports,…
Leave a comment